I got this on my birthday on the over a month ago and I must have used it for about 30 days now.
I did a post when I got it with before shots too, but I thought I'd put them in this post too so that you can see the difference (if there is any)...
Before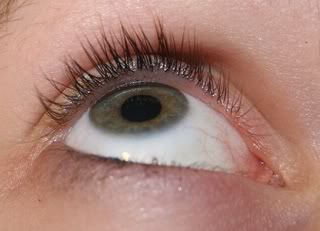 After
Before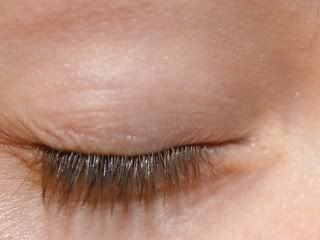 After
The focus on my camera was being an ass for this one!
Call me crazy, but I don't think it worked in terms of growing my lashes! :p It might have grown a little bit, I an see some difference in the open eye pictures :)
As you can see form the pictures, it doesn't seem to have done much in the way of growing my lashes longer, or making them much thicker. If anything my lashes look longer in the before photos because I still had tiny traces of mascara on them. I have however noticed less of my lashes falling out, particularly when I take off my makeup. I've always careful when removing makeup from around my eyes, but however genitally I rub some lashes always come out, but since I've been using Lash Accelerator this hasn't bee happening as often, defiantly not every night.
As a mascara it's good and I like it; it's got just the right amount of length for me without going clumpy (you would think it would as it's a little on a wet side) and the brush is good - a nice size, tapered toward the end so you can get to all the lashes with ease. I find it quite... buildable, if you like, you can add quite a few coats without it going extremal clumpy like other lengthening mascaras I've tried. One layer is quite natural and the more you put on the longer and more dramatic they get, it's the main reason I liked it. However I did find that you could leave the house with long dramatic lashes but through the day the kind of dull down a bit, I don't touch/rub my eyes a lot so my only conclusion is that it must somehow fall off during the day :s
The price is ok? I would probably buy it at full price - I don't normally with mascaras because if I hate it I've wasted quite a lot of money - because I know it works well for me.
But
I do think that part of the price is due to the fact that it's meant to grow your lashes and make them stronger and if they marketed it without that line then it would be maybe £2 or £3 cheaper.
Will I repurchase?
WELL... I was going to, just because I like the mascara itself (and that's so rare!),
but I recently discovered that Rimmel still use animal testing (if you want to know more my post was earlier this month :) so I won't be buying thi
s, or any other Rimmel product until the stop testing on animals. I've also now lost the mascara because my jar where I keep all my mascara fell on the floor this morning, sending makeup flying everywhere! I found most of it but my eyebrow pencil and the Rimmel mascara are no where to be seen, we think they're under the bed somewhere!
I am now eager to try the Revlon Grow Luscious and compare the two. I didn't even I know about the Revlon one till the other day and I'm pretty sure it's been out longer than this one, or maybe that was just in the US?
Edit: I was contacted by a representative of Rimmel who informed me that Rimmel do not test on animals. She send me a copy of their official statement on the matter which confirms that Rimmel no longer use animal testing on their finished product or any of the ingredients.
This is true
however
Rimmel is owned by Coty, who are a HUGE user of animal testing, I think they may even own labs for it but I can't be sure of that. So by buying Rimmel who do not test on animals you are feeding their parent company who do.
I will let you make up your own mind on how you feel about this, but I myself will still not be buying from Rimmel.