(Sorry for that lack of challenges, I've been really busy with college)
I've been seeing videos pop up in my subscription box recently about animal testing. Now stupid as it sounds of me, but I kind of thought that no one reallt tested on animals anymore - why would they need to? - it sounds even more rubbish when you take in to consideration that fact that I've been a vegetarian for 3 years!
I wasn't so surprised to find out that drugstore brands such as Rimmel and Maybellne animal test, but them something horrable was revealed - Benefit still test on animals!... Now I love Benefit, I own more of their products than I do Mac and I love everything about them (apart from maybe the price tag ;) but to find out that I'd been paying all that money for animal tested products sickened me!
So, in ture Britsh style I wrote a letter... Now you may not think that one letter will do much, but if other people send them then Benefit might take notice and do something in the long term. I'm sorry this post isn't very detailed, but it's nearly 12 in the morning and Dan has to go to bed so I'm in a hurry, but I expect that by the time you read this I will have done a video in detail anyway :)
Here's the letter/email I sent them, I know it's probably not the best and there's no doubt some spelling errors (I'm dyslexic) but I've sure you can understand it ;)
Hello, I've been a fan of Benefit products for a few years, so you can imagin how upset I was when I recently discovered that your company tests on animals. I realise that the finished product isn't animal tested, but as far as I'm concerned no part of the production should have been! I'm used to drugstore companies using animals to test on, but I was so shocked that a high end brand such as yourselfs would do so, when others like Mac and Bobbi Brown do not. What's different about your products that they need to be animal tested? I will be posting on my blog and youtube about this to get other peoples reactions, but from the people I have already talked about this to I am not the only one who was horrified. Needless to say I will not be purchasing any of your products untill you are cruelty free, but I look farward to that day as I do really like your products! Yours, Indigo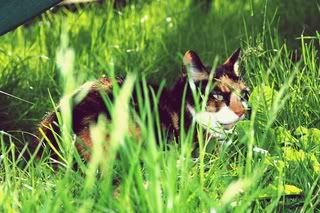 We now take a breif interlude in the post for a picture of my cat laying in the unkept grass...
______________________________________________________________________
Useful links:
This site seems to have a pretty good list of companies that are cruelty free
http://www.mymakeupmirror.com/MakeupWithoutCruelty.php
Another good refrence if you want to know if something is animal tested
http://www.peta.org/living/beauty-and-personal-care/companies/default.aspx
This site may seem like it's overracting but from other things I've read and seen years ago I know that they're not. Loreal are one of the biggest cosmetic companies in the world and it's sad that they still use animal testing
http://www.liberation-mag.org.uk/loreal2.htm
And google is a useful tool if you want to know about a spasific brand :)
I will be updating with moer links as and when I find them :)
________________________________________________________________________
So this is what I've found out about my favourite brands. The ones listed are companies that DON'T test on animals, unless I stated otherwise ;)
Barry M
Superdrug are apparently against animal testing so any of the brands only sold there are cruelty free Sleek, MeMeMe, Gosh, and MUA
Natural collections
Collection 2000
Elf
Mac. I think I will be saving up and buy from them more. It also stops me from buying so much because I can't afford that much from Mac.
As part of the Estee lauder company, Macs animal testing policy is a little too vague for my liking, and has some areas which would suggest that they do still test on animals.
Johnson and Johnson, yey I can still use my favourite face wash from Clean and Clear! :)
My info on that was wrong, I thought it was on the list of companies that don't animal test on the PETA website, but I guess it was just wishful thinking :( Now I have
no
brands that I can use D:
John Freida don't, but Aussie DO which pisses me off because I love Aussie.
And my Jergens Naturals of course, becasue they make a big thing of it on my packaging
Obviously there are loads more than this that don't test on animals (see the link/s I posted or just google it) but I thought I'd list them anyway just because I'm happy about that fact that not all me favourite makeup is off limits :)
At the end of the day the companies that don't test on animals far outweigh those that still do, but it's still sad that in this day and age, with all this amazing technology around us some companies still feel the need to use a practice that dates back posibily hudreds (or even thousands) of years.