Dan and I didn't get invited to any parties, seeing as 99% of our friends live in a different town and we were ot of money from Christmas. We ended up having some cider and going for a walk at midnight to see the fire works, it was nice :)
But before that I desided to play with my makeup. My eyes have been getting a little irritated lately so I opted for some lip art!
First I did a leopard print onto a backgroud of gradent purple.
I love doing these kinds of design because it's really quite easy to do and I think it looks quite effective...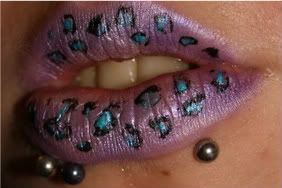 I washed that off but after a few mintues I was thinking about different things I could use on my lips, gitter being one of them....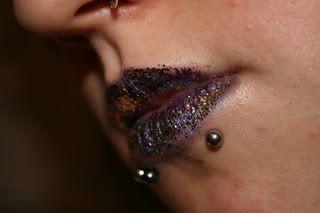 This is a purple glitter liner with a gold patted on top.
Now these obviously are not confortable to wear, but they're more of an art statment than something you'd wear out - I wouldn't wear leopard lips out anyway ;p
But they're very fun to do :)