They were amazing! It took us over 3 hours to find the o2 and then we waited for another two, but it was worth it. We were in the balconey, which isn't what I paid for, but we got right next to the stage at the front. It was lacking in attmospher up there thouogh, if you've ever been to a metal consert, you'll know about the pits, the moshing and generally getting throwen around. That was going on, on the floor. Not where we were. Dan and I were head banging, screaming, devil horns in the air, but no one around us. There were just sat, watching. Maybe the slight nod of a head here and there. I'm telling you, it was like they were watching fucking opra, but Lamb of God!
But think the fact that we were the only lively ones on the balcony caused Willie (rhythem) to salute us twice. Once when he came out and was playing with one hand on his own with lead chris and then again just before they went off stage. I guess they must have just been happy that someone up top looked like they were having fun!
It was great, but I wish I took mmy camera. Because thought we were in the stalls we didn't take much, so all the pictures are on my boyfriends 2 mag. pixle phone camera, rather than my digital SLR whih I would have taken had I knowen we'd be up there.
I want to go again now, they were so good live, Randy really knows how to get the cround going, plus it was their first show of 2010! Next time they come here I'm fucking going, and I'm gunna be on the floor this time!
Best picture I got!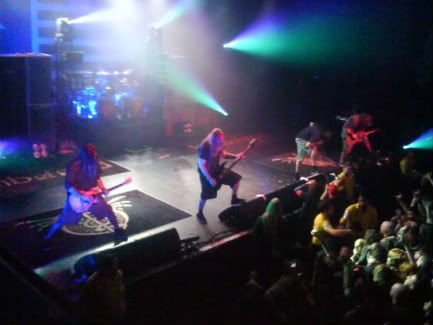 And the second best: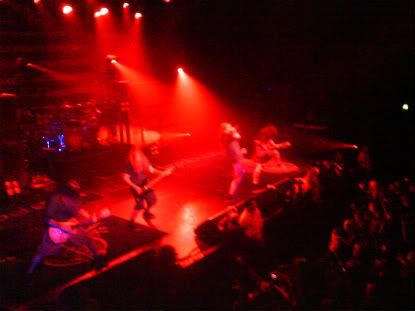 K, this is really random, but before we left we saw a guy taking pictures of a new tree in the town center. He looked like a touist and this is DanDans inpression of him: