Today I was in Boots, browsing makeup. I haven't looked at the high end part of the store in a long time - I hate those orange girls who look at me like I have a disease and try to tell me what would look good on me (I know what I like and I didn't ask you for help!) ... Rant over, my point was that I spotted something which I don't remember clocking before: Label Whore. It looked duo chromed red-brown with a green tinge to it and very pretty in the pan, so I swatched it. I was immediately reminded of MUA (Makeup Academy, available at Superdrug in the UK) shade 12. Now I don't own Label Whore, so I can't do swatches of the two together and taking photos in Boots is a big no-no (it's in a complex where if you even so much as take a camera out of your bag security have confiscated it!) so I've stolen this swatch of LW: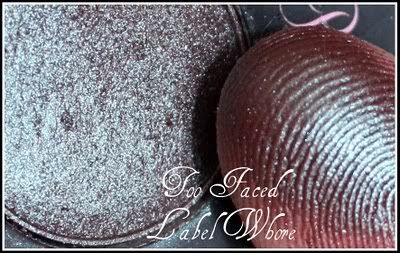 http://bloggers.com/topics/label+whore
And MUA shade 12: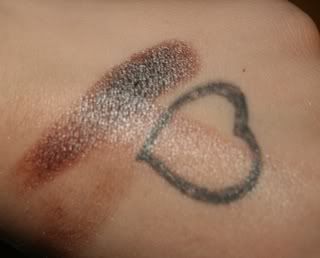 With flash
Without
(this photo pains me to show you, I hate the yellow tint to it, however it's very late & I know I'll forget to do it in natural light.)
And this is what it looks like in the pan.
I am very tempted to take the MUA shade into town next time I go so I can swatch LW, then go outside and swatch the MUA shade next to it. If I do end up doing that I'll put up an edit here so you can see both shadows together...
On to the price; Too Faced single eyeshadows are £11 each in Boots ($16 on the Too Faced website) and you get 2.5g of product. With the MUA eyeshadows you get 0.5 less, but it costs £1, blends beautifully, is just as pigmented as LW and stays all day when I use a primer. I have other Too Faced shadows and I have to say I don't notice any difference between the two brands in terms of quality, so why spend £10 more than you have to?
Obviously this won't really help you if you're in the US, unless you can get someone to send you one, but if you do get the chance, go check out MUA shade 12.
And for those of you wondering, both brands are cruelty free :)