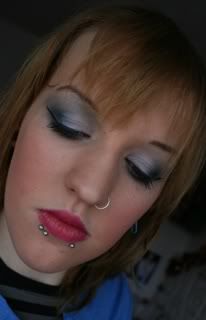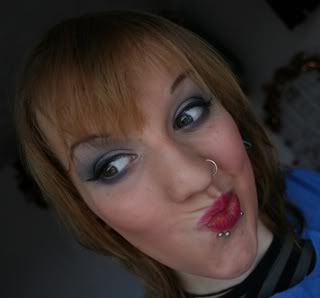 Because there has to be one of me pulling a face!
And as promised, here's the products used
Silver/gray from the H&M smokey eye palette. Don't think you can still get this palette, which is a pity because the shadows are beautiful!
Stonewashed - Collection 2000. Pretty sure you can still get this one, it's a lovely colour and the fall out isn't bad for a pigment.
(Left) Natural collection colour (I did call this collection 2000 in the video, it's not) which doesn't seem to have a name. Don't know if they sell this anymore, I haven't seen it for a which. However it's not the best shadow I have and I'm sure you could get one the same colour with better pigmentation.
(Right) Thunder from Mac. it looks nice when swatched, but it's my favourite. It can be a little hard to work with for some reason.
Colours from the Original Sleek palette. I love the Sleek palettes, if you haven't got one; you need one!
Finally the nameless blue waterproof (not water colour) eyeliner from Boujios. I know you an still get this, along with other colours.