Surprising as it may seem, I've never bought from an indie company, though I have looked through a lot of indie websites and picked out things that I liked.
One of the things which holds me back is that a lot of companies use Paypal. I can completely understand why - it's safer and easier for both parties - but I've had problems every time I've used Paypal so I tend to steer clear of it now.
That said, my first experience with indie makeup has been a good one.
I ordered on a Sunday (I believe, I can't remember clearly) and about 10 days later my package arrived. I was impressed with this as Shiro is based in the states and I always expect packets from there to take weeks to get here. It came well packed and slealed, and when I opened it up I was delighted to see the inner packaging:
I'm a massive sucker for packaging on anything, and I liked the little touch. She could have just plonked it in a plain bag, but chose to use these instead.
What i got in my order is as follows (left to right):
Pigments:
S.S. Anne
Midna
Majora's mask
Veran
Deku
Mew
I got these in the mini size because I didn't want to buy full size ones and not like them. I have so much eyeshadow and you use so little of the pigment that I thought that I wouldn't use a whole full size jar unless I really really loved the colour ;) The mini sizes are very fairly priced as well, which meant that I could try more colours!
Intertube sample:
Leeroy Jenkins (I honestly didn't look at the name of this till I got it but it certainly did make me grin when I saw it ;)
I got this in the sample size because I simpally didn't know if I'd like the product and didn't want spend £4 for the full size when I may never use it. Fortunatly, I love the product, so will be purchasing more at some point in full size ;)
Free sample baggies:
I like the little token here, and it's something you won't often get with a corporate brand. The only one I can think of off hand is Lush, but only after you'e spend half your weeks wages on soap and bubble bars that you don't really need! I like the shades I was sent and you get a reasonable amount in the baggies. I'm going to need to find something to depot them into though, as I hate fiddling about trying to fit a brush into a small bag with one hand, whilest holding it open with the other and praying that you don't drop pigment everywhere! I'm clumsy :s
As for quality, I'm very pleased! I wasn't expecting anything horrific, but I didn't bargain on the amount of shimmer and glitter that would pick up on the eye with the pigments. I've got a few pigments that look beautiful in the pot, but don't last on the eye very long at all. These aren't at all like that, the glitter stays for a fair enough of time and doesn't simpally just drop off after 10 minutes. The only down side to this being that you do get some fall out, but all you need to do is be careful and you're fine.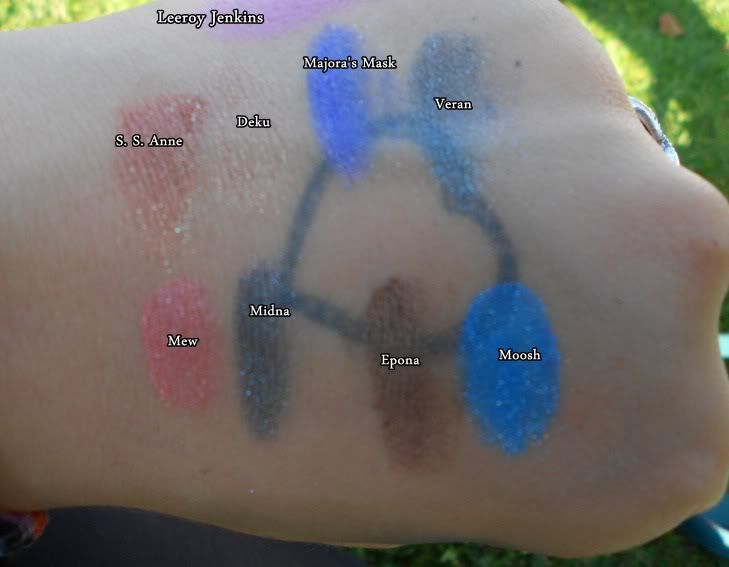 In shade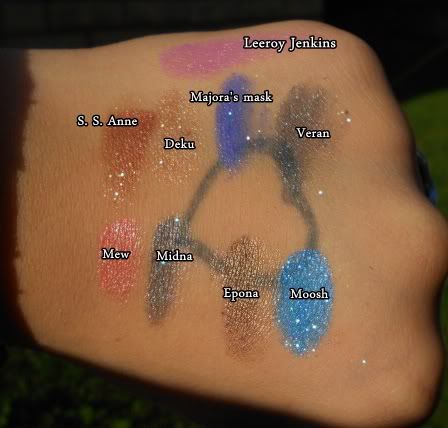 In the sun, the colours don't all show up very true in the, but you d get an idea of how glittery they are!
Over all, I'm very pleased with my Shiro experience! Nothing went wrong with the payment, my package didn't get lost or take forever to arrive, and I didn't get charged a fuck load of customs (which is another thing I'm always afraid might happen when I order from the states :s). I with be buying from Shiro again and will do a more in-depth review when I've tried more of their products and for a longer period of time. I just wanted to share with you briefly, my first thoughts and opinions :)