Ok, I know I haven't updated in a while, I've just been so busy with things. College is coming to an end and I've also had some problems with my home life ect.
Anyway, I don't see the point in making a video about this, but if anyone wants to know how I'm doing they should be reading here!
So far I've finished 1 gloss off! It was Benefits 'glossiness' and as you can see in the pic bellow (just in case you cant quite take my word for it) there's basicaly nothing left to get out of it.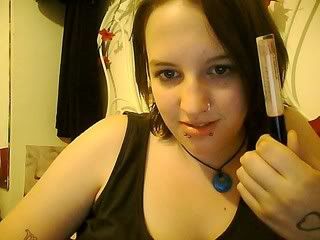 After that I took a break from wear makeup fullstop because I really couldn't be bothered, but I feel much mmore myself now and I'm starting to use one of my e.l.f. glosses and a Rimmal one.
I've broken what I said and have bought another lipstick, but I do wear lipsticks a hell of a lot more than glosses so I'm not worried about my money being wasted.
Plus it was a leaving college present to myself...
Ok, that's enough lame excuses, I just wanted it!